A Mother and Teammate's Fight Against Impaired Driving
On September 1, 2018, longtime Fibertech team member, Tabitha DeVasier, experienced every mother's worst nightmare. Her 19-year-old son, Trevor, and his best friend were killed in a car accident. But, once she learned that their lives were taken because of one person's decision to drive impaired, she dedicated her life to ending drunk and impaired driving – if only to save one mother from hearing the same devastating news.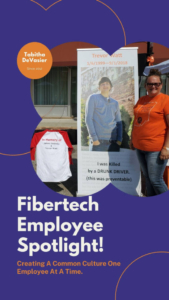 Tabitha now spends hundreds of hours each year volunteering for local nonprofit Logan's Promise, which promotes the understanding and consequences of impaired driving; focusing on prevention. It accomplishes this mission by hosting events which raise funds to provide safe rides while advocating for victims' families through court assistance and grief support.
And, her Fibertech family saw her commitment and supported her on from day one. Not only did they give in the form of dinners and donations, they also showed up. "I remember at the funeral I saw a big group of my Fibertech family walk in. To this day, I still get teary-eyed knowing that they love and support me," said Tabitha. And, it didn't stop there, on the one-year anniversary of Trevor's passing, the guys on Tabitha's Fibertech team wore orange in honor of Logan's Promise.
With the slowing of Covid cases, Logan's Promise is starting to host in-person events again, and, as usual, Tabitha will be right there to help. Not only will her teammates be cheering her on, but Fibertech will be donating food to help ensure the organization is able to continue its important mission.
"All I ever wanted is for my son to be proud of me. By telling his story and providing a safe ride, I hope that I am doing just that," said Tabitha.
For more information about Logan's Promise, please visit http://www.loganspromise.org.
https://fibertechplastics.com/wp-content/uploads/2021/05/Tab.jpg
970
546
Fibertech
https://fibertechplastics.com/wp-content/uploads/2021/08/Fibertech-logo-color-reversed-400px.png
Fibertech
2021-05-14 09:15:44
2021-05-14 09:29:31
A Mother and Teammate's Fight Against Impaired Driving