Why You Should Choose Fibertech's DOT Bulk Shipping Containers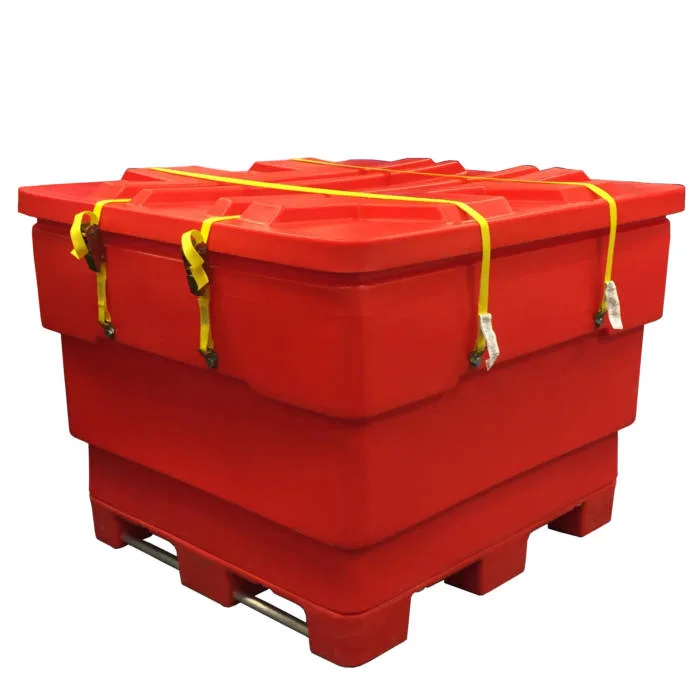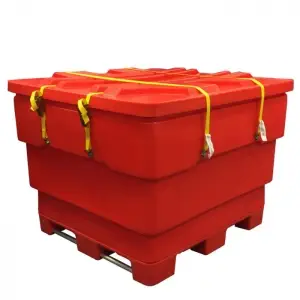 Our durable DOT shipping containers are a wonderful solution for any company looking for an easy and reliable way to transport bulk or hazardous materials. Thanks to their durable nature, secure design, and easy-to-use structure, these bulk shipping containers are ideal for a variety of industries including commercial laundry, automotive, healthcare, pharmaceutical, and more!
Solid Construction
Constructed from linear low-density polyethylene resin, our single-wall DOT shipping containers feature a one-piece design with a bolted on pallet—resulting in a strong, damage-resistant product—perfect for transporting bulk materials, as well as materials that may pose a hazard to the public.
The plastic used to build our DOT shipping containers is both chemical and weather resistant and is constructed to stand up to transportation handling.
Secure Design
This solid construction along with additional safety features makes our DOT containers ideal for shipping non-liquid materials including clinical waste, flammable materials, oil or paint soaked rags, and soiled laundry. Some of our additional security features include a heavy duty lid with a foam rubber seal to minimize odors, and four security tension straps to ensure the product stays contained during transit.
Our DOT shipping container is also certified by the Department of Transportation for transport of hazardous materials. While this shipping container is great for the transportation of a multitude of different materials it was designed to comply with the transport of dangerous goods with an 11H2 certification, for non-liquid materials.
Bulk Size
Unlike smaller plastic barrels that are often used to transport hazardous materials, our DOT shipping containers are ideal for efficiently shipping large quantities. Holding up to 125 gallons (34 cubic feet), and 36 inches in overall height, our DOT containers can accommodate more materials in one container than several plastic barrels. When filled for shipping, the containers stack easily and are designed to fit in semi-trailer trucks for more efficient shipping.
Easy to Work With
Dealing with bulk shipping containers can be a tedious task, which is why our DOT shipping containers are designed for ease of use during the shipping process. Because of the four-way entry design, these containers are easily relocated with forklifts or pallet jacks. They also feature an ergonomic design and are nestable when empty—ideal for tight spaces.
The one-piece design of the DOT shipping containers features a smooth, flat interior as well as reinforced, rounded corners, which eliminates the risk of product collection, and aids in cleanliness. The plastic construction is also rust-resistant and provides for non-static material transfer.
If you are interested in learning more about our bulk container solutions, feel free to contact us today to learn more and simplify your shipping experience today.
https://fibertechplastics.com/wp-content/uploads/2017/05/4-DOT-Red.jpg
700
700
Fibertech
https://fibertechplastics.com/wp-content/uploads/2021/08/Fibertech-logo-color-reversed-400px.png
Fibertech
2017-05-17 08:45:09
2019-01-10 11:21:55
Why You Should Choose Fibertech's DOT Bulk Shipping Containers