Drumroll, please. Fibertech announces its latest product!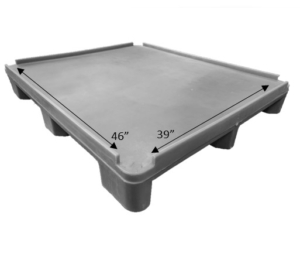 Fibertech remains a leader in material handling rotational molded products by providing one of the industry's most well-designed and well-built collection of products. With that commitment in mind, the Fibertech team was thrilled to recently unveil one of the industry's strongest rotationally molded pallet with a four sided lip!
So, how can a pallet with a lip help how you move product?
While pallets have been a fundamental piece to the supply chain puzzle for years, there are no other pallets in this class that stack up to Fibertech's new pallets with a lip. These 100% recyclable pallets with a load rating of up to 2,500 pounds, come in several different sizes and colors and are produced from durable plastic making them more immune to impact, handling, and environmental risks. In addition, the distinctive design features of an angled leg that redirects fork tines – increasing the pallets' life span and supporting Fibertech's remarkable four-year warranty!

Not only are they durable, these pallets make stacking a breeze. This is particularly beneficial when pallets are loaded on a forklift. And, when not in use, this allows the pallets to rest in a straight, upright stack.
These pallets resist dirt and contamination build-up as seen with wood pallets which makes them easy to clean with just soap and water – no difficult holes or crevices that are common with injection-molded pallets.
And, don't forget about optional additives! Fibertech offers the choice of USDA/FDA approved resin, recycled material, antimicrobial additive, and even fire-retardant resin making these practical for just about any industry.
We understand that switching to Fibertech's rotomolded pallets is most certainly an investment. But it is sure to make moving product easier, safer, and even faster – all of which are important to your employee morale and welfare – and also your bottom line. Contact our seasoned sales team to learn more about how our pallets can support our production application.
For more information about Fibertech's new pallet with a full four-sided lip, please visit https://fibertechplastics.com/plastics/plastic-pallets/.
https://fibertechplastics.com/wp-content/uploads/2014/07/NP4048-FL-2-1.jpg
970
970
Fibertech
https://fibertechplastics.com/wp-content/uploads/2021/08/Fibertech-logo-color-reversed-400px.png
Fibertech
2021-02-24 07:40:48
2021-04-01 16:47:11
Drumroll, please. Fibertech announces its latest product!