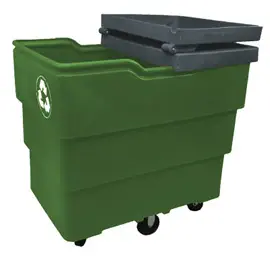 Four Design Features Of Fibertech's Recycling Carts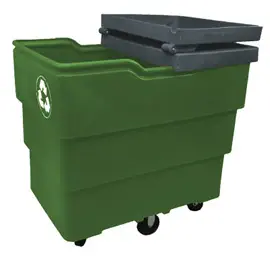 Whether you work in an office, hospital, school, or waste management facility, Fibertech's durable and functional bulk recycling carts offer a long-lasting solution for your company's recycling and sorting needs.
Fibertech's recycling bins are designed for commercial and industrial use in a variety of environments, making them a smart investment for any business.
Read on to learn about four of our favorite design features that set Fibertech's recycling carts apart from other products on the market.
1. Durable Design
Our RC38 recycling cart model is a long-lasting alternative to other options on the market. This durability is due to our unique manufacturing process which incorporates a one-piece, single-wall design crafted from low-density polyethylene resin. The result is a dent, scratch, stain, and rust resistant final product!
Other standard features which ensure the durability of our recycling carts include a reinforced rim and rounded corners, a smooth flat bottom with the support of a plywood base, and a fork-lift-deflective design that protects the plywood base from fork lift wear and tear.
The attention to detail involved in manufacturing our recycling carts ensures that they will serve your business for many years. Don't believe us? We offer a four-year limited warranty to guarantee customer satisfaction.
2. Functional Design
All of Fibertech's commercial recycling products are designed with functionality in mind because we believe that our products should work for you, not against you.
That is why all of our carts include six wheels, four casters which swivel for easy maneuvering, and two rigid casters that allow a constant tipping for users to easily roll the carts over any surface. No more frustrating trips spent struggling to transport your recycling cart!
Our carts also feature a convenient, ergonomic nesting design with tiered walls that makes them easily stackable to conserve space.
3. Customizable Design
In addition to providing a durable and functional recycling solution for a variety of industries, our commercial recycling carts also come with a range of customizable options to ensure they meet the specific needs of your company.
Some of our customization options include locking security lids for the protection of sensitive documents, and files, forklift pocket channels for convenient disposal, and four or six wheel caster configuration for the best functionality possible in your work environment.
The recycling cart lids can be customized for your specific office needs, and include a slot for paper and a hinge in case you need to remove documents from the bin.
We also offer aesthetic customizations, allowing your business to make your recycling carts your own! These modifications include 15 standard color options, custom color offerings, company logo stenciling, and mold-on and mold-in graphics.
4. Secure Design
One of the top concerns we hear from customers in office environments—especially in the legal, insurance, and healthcare fields—is confidentiality. We understand the importance of complying with document destruction guidelines and privacy laws, which is why we offer locking security lids for protection of sensitive documents and computer hard drives.
Want Try Our Commercial Recycling Solutions For Yourself?
As you can see, there are many reasons that Fibertech's commercial recycling carts are an excellent choice for your business. If you want a functional and mobile long-term solution that will last for years, our recycling carts are exactly what you have been looking for. Want to learn more? You can read more about our one-of-a-kind recycling cart on our website.
If you still have questions or want to learn about purchasing recycling carts for your commercial recycling needs, our team is happy to help! Contact us today to discuss the many benefits of making the switch to Fibertech's recycling solutions today.
https://fibertechplastics.com/wp-content/uploads/2017/02/recycling-cart-open.jpg
257
270
Fibertech
https://fibertechplastics.com/wp-content/uploads/2021/08/Fibertech-logo-color-reversed-400px.png
Fibertech
2017-03-07 13:43:58
2023-10-17 10:44:54
Four Design Features Of Fibertech's Recycling Carts