How will our industrial utility carts work for your business?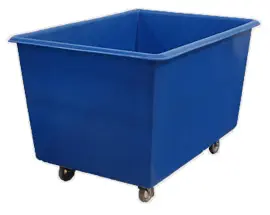 Although we initially manufactured our industrial utility carts with the laundry and linen industries in mind, they have become popular with clients across a variety of industries thanks to their versatility. Some of the features that make our utility carts useful for such a wide range of applications include their customizability, ergonomic design, and durable nature.
Our Utility Carts are Available in a Variety of Sizes
Our industrial utility carts are available in three convenient sizes ranging from our smallest UC-12 model, which can hold up to 15 cu/ft (or 12 bushels) of materials to our largest UC-20 model, which can facilitate up to 25 cu/ft (or 20 bushels). This allows you to choose the size that will work best for your industry needs.
Our Utility Carts are Easy to Maneuver
Another design feature that contributes to the continued popularity of our utility carts is their ease of use. Unlike utility carts you may have worked with in the past, our ergonomically-designed utility cart's wheels incorporate two rigid and two swiveling, double ball bearing raceway rubber casters. This results in easy movement—no matter how heavy your load may be!
Our Utility Carts are Customizable
Popular for commercial laundries, government agencies, recycling centers, universities, schools, warehouses, and more, our utility carts are highly customizable and can be made to include the exact features that you need. Some of our design options include
Incorporating fork pockets for easy forklift access in warehouse settings

Adding a reinforced plywood or galvanized steel base for extra strength

Placing drainage holes (and drain plugs) in the base of the cart for use in damp environments

Incorporating stenciling, mold-on graphics, or mold-in graphics to reflect your company logo

Changing out caster sizes, for the exact movement needed in your work environment
Our utility carts are also available in a variety of color options including custom color options.
Our Utility Carts Incorporate the Durable Design you'd Expect from Fibertech
As with all of our products, our industrial utility carts feature a durable design that will last your company for years to come. Rotationally molded from polyethylene with a strong, one-piece design, our utility cart does not have any weak points or seams. Instead, their heavy duty design is resistant to stains, scratches, dents, and even rust! Don't trust us? We are so confident in the integrity of our products that they come with a four-year warranty.
Are our Utility Carts Right for Your Business?
If you are looking for a convenient material handling solution that can be customized to your specific industry niche, Fibertech's industrial, rotationally-molded utility carts are just what you need. Their durability, customizability, easy-to-maneuver-design, and wide range of size options keep customers coming back time and time again for solutions that will make their company run more smoothly.
https://fibertechplastics.com/wp-content/uploads/2014/06/utility-cart-fibertech-blue.jpg
400
400
Fibertech
https://fibertechplastics.com/wp-content/uploads/2021/08/Fibertech-logo-color-reversed-400px.png
Fibertech
2017-09-27 14:45:44
2019-01-10 11:21:55
How will our industrial utility carts work for your business?