Fibertech's Innovative Rotatable Containers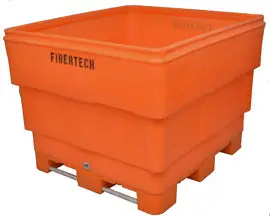 At Fibertech, we manufacture our plastic bulk containers to work in a wide variety of applications. All of our durable, rotationally molded models share certain key features including a solid, one-piece construction from the highest quality low-density polyethylene that is long lasting, easy to clean and resistant to rust, chemicals, and other environmental contaminants. However, we want to ensure that our material handling containers work for your company's specific needs, which is why we also offer a wide range of customization options.
One of our most popular customized models is our rotatable containers, which combines that quality of our standard 4Series bulk container with secure dumping and tilting capabilities. Read on to learn more about how this modification to our bulk plastic container can work for your company's material handling needs.
The Construction of Fibertech's Bulk Rotatable Containers
Our rotatable containers incorporate an aluminum bar through the replaceable, bolt-on pallet base of our standard four-way forklift accessible 4Series bulk container – giving this popular design increased versatility when it comes to material handling.
Our 4Series bulk containers, which are the base of our rotatable containers, are ideal for use in warehouse settings as they are specially designed with forklift entry points resulting in ease of use and a minimized risk of forklift damage. With our rotatable containers, the addition of a one-inch aluminum rod to our standard containers gives our customers the ability to securely tilt and dump materials using a standard forklift 180-degree rotator.
Standard Features of our Rotatable Containers
Although you can always customize any of our bulk containers to fit your specific industry needs, some of the standard features of our rotatable models include a flat bottom with a bolted-on pallet base that has four-way entry and two-way forklift rotatable entry, a one-inch aluminum rod for easy tilting and dumping, and an ergonomic, nestable design.
Like all of our durable products, our rotatable containers have a variety of benefits thanks to their rotationally molded manufacturing. Some of these key features include an easy-to-clean design with no collection points, non-static material transfer, rust-resistant design, and a four-year warranty.
Customization Options to Make our Rotatable Containers work for your business
Not sure if our rotatable containers will work for your business? We offer a variety of customization options that ensure you aren't paying for features you don't need. Some of our most popular customizations include the addition of a lid for sanitation and secure material storage, divider plates to separate and sort materials, and drain holes and/or drain plugs for use in damp environments. We can also add a welded seam for additional strength and replaceable bolt-on pallets to extend the life of your containers. If you want to add your company colors or logo to your rotatable containers we also offer mold on and mold in graphics as well as custom colors.
If you have been searching for a bulk container that is capable of easy tilting and dumping, our rotatable container is exactly what you are looking for! Contact us today to learn more about our innovative and versatile bulk plastic containers that make doing business easier for you and your team.
https://fibertechplastics.com/wp-content/uploads/2017/11/rotatable-container-fibertech.jpg
216
270
Fibertech
https://fibertechplastics.com/wp-content/uploads/2021/08/Fibertech-logo-color-reversed-400px.png
Fibertech
2017-11-16 12:40:24
2019-01-10 11:21:55
Fibertech's Innovative Rotatable Containers