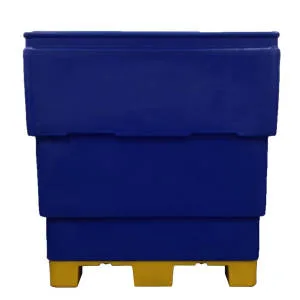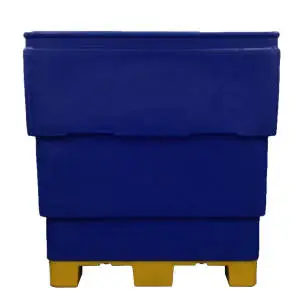 It can be difficult to find bulk containers that will work for your exact industry needs. Fortunately, Fibertech offers a wide selection of bulk plastic containers, available in six one-of-a-kind styles and 12 standard colors, with a variety of customization options available as well! This dedication to durability and performance ensures you will find the exact product you need to meet all of your bulk material handling needs.
Design Features of Our Bulk Plastic Containers
Although we offer a variety of styles, our commitment to durability and ergonomic design is apparent across all of our rotationally molded bulk plastic container models. All of our bulk containers are constructed with industrial material handling in mind, featuring a solid wall construction that makes them resistant to wear and tear in even the most demanding industries. However, all of our containers are lightweight and easy to maneuver. Below are four of the features that make our bulk containers ideal for just about every industry!
Forklift Accessible
If you work in a warehouse, you know how easy it can be to damage containers while maneuvering them with a forklift. However, we are committed to designing long-lasting products that will serve your company for years to come—even with frequent forklift use—which is why our bulk containers are designed to be 2-way and 4-way forklift accessible. We offer a 2Series plastic container that includes 2-way forklift entry and is designed with angled legs that reduce the chance of damage from forklifts, as well as a 4Series bulk container that includes 4-way forklift entry.The 4-Way forklift entry through replaceable bolt-on pallet base extends container life and lowers the cost for container replacements due to forklift damage.
Space-Saving Design
All of our bulk containers are nestable and stackable. This space-saving design is favored by clients that work in warehouses, recycling yards and anyone who benefits from efficient backhauling.
Free Flow
Depending on your industry, you may want a bulk container that offers free product flow with no collection points. Fortunately, our free flow containers do just that! These bulk containers include a flat interior bottom as well as contoured corners, which eliminate collection points. They also include no metal hardware, making them rust and water resistant! Clients working in the food industry or other damp environments find this feature critical to carrying out their work in an efficient and sanitary manner. All Fibertech plastic bulk containers are USDA/FDA approved material for direct food material contact, no plastic liners are required with our containers.
Ergonomic Features
Although durability is central to all of our designs, we know that they also need to be functional and easy to maneuver for a variety of applications. That is why all of our bulk containers include ergonomic handles, to ensure they are easy to stack and move. We also offer caster cart containers which include both rigid and swivel casters for easily transporting materials in even the tightest spaces. If you are in an industry that requires frequent loading and dumping of materials, we also offer rotatable containers that are engineered to include an aluminum rod for secure tilting and dumping.
Let us help you find the perfect bulk container for your business!
In addition to the above features, we also offer a variety of other customization options including our DOT containers with a sealable lid, alterations to the thickness of the container, custom colors and stenciling, and even repairs. Contact us today to find bulk containers that will work for your specific industry needs!
https://fibertechplastics.com/wp-content/uploads/2017/07/bulk-plastic-container-1.jpg
300
300
Fibertech
https://fibertechplastics.com/wp-content/uploads/2021/08/Fibertech-logo-color-reversed-400px.png
Fibertech
2017-07-21 12:05:34
2019-01-10 11:21:55
Bulk Plastic Containers