Benefits of Fibertech's 2 Series Combo Bins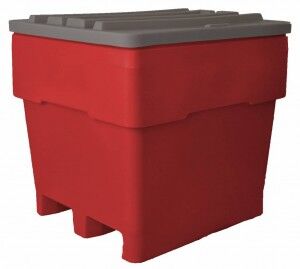 When it comes to customers in the food processing and pharmaceutical industries, one of the most common requests we hear is for a multi-purpose combo bin that can be used in a variety of applications to replace cardboard and wood stainless steel containers. If this request sounds all too familiar, you are in luck, because our 2 Series combo bins, crafted from durable rotationally molded plastic, are a long-lasting, cost-saving solution with a wide range of uses across industries.
Solid construction
One of the best things about our 2 Series bulk containers is that they feature a durable one-piece design that has no weak points or seams. Guaranteed to last your company for years to come, our combo bins feature reinforced corners as well as a reinforced rim, since this is the area that bears the brunt of the force when being used. Even better, our 2 series combo bins are also manufactured from 100% virgin materials with no metal hardware, making them both FDA and USDA compliant — an essential feature for those working in food processing and pharmaceutical settings.
The innovative design of our combo bins also incorporates convenient two-way entry points for forklifts and a one-of-a-kind angled leg design that reduces the risk of damage to our reusable shipping containers in warehouse environments.
Available in a variety of sizes + options
As always, we want our material handling containers to work for your exact industry needs. This is why our 2 Series combo bins are available for purchase in four convenient sizes with a range of additional customization options. Some of these optional modifications include:
Drain Holes/Drain Plugs

Divider Plates

Stacking Lids

Dust Cover Lids

Stenciling

Mold-in/Mold-on Graphics

Custom Colors
Other key design features
In addition to a durable design with customizable features, our 2 series combo bins also include a channel bottom and rounded interior corners, making them an easy-to-clean material handling option for companies in food handling, pharmaceuticals, or any industry where cleanliness is of the utmost importance. Even better, they are also rust-resistant since they are constructed entirely of plastic! Our 2 series bulk containers additionally feature a stacking/nestable design, which is popular with many clients because it saves space in tight shipping and warehouse settings.
Ready to see how our combo bins can improve your business?
If you have been searching for a durable, cost-effective alternative to cardboard containers, our reusable and versatile combo bins may be exactly what you need to take your business to the next level. The durable construction, versatility, and customizability of our 2 series combo bins make them an effective replacement for cardboard containers for customers in a wide array of industries. If you want to save time and money by investing in our highly efficient material handling and shipping containers, contact our team today to see how our 2 series containers can make your business the best in your industry!
https://fibertechplastics.com/wp-content/uploads/2018/02/2Series-with-lid-300x269.jpg
269
300
Fibertech
https://fibertechplastics.com/wp-content/uploads/2021/08/Fibertech-logo-color-reversed-400px.png
Fibertech
2018-02-16 14:20:59
2023-10-03 09:43:33
Benefits of Fibertech's 2 Series Combo Bins