Fibertech's Free Flow Container for Food Handling Industries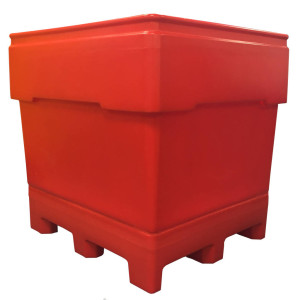 If your business is looking for an easy-to-use and durable bulk container with no metal hardware, our free flow container may be the perfect fit for your material handling needs. Featuring a long-lasting construction coupled with ergonomic design features, our free flow container is one of our most popular models for those in the food handling industry. Read on to learn more about the unique features of this plastic container that set it apart from other bulk containers you may have tried in the past.
Manufactured to Last
At Fibertech, all of our bulk plastic containers are manufactured using rotational molding, which results in a solid construction that is resistant to damage. All of our free flow containers feature a single wall with one piece construction from linear low density polyethylene resin — making them extremely durable, as there are no weak points or seams that will weaken over time. Our free flow design also has no metal hardware resulting in a product ideal for use in damp environments.
Designed for use in the food handling industry
Another feature that differentiates our free flow container from other bulk containers is that it is specifically designed for use in food handling industries. This means it is engineered with contoured corners and a flat, smooth interior to allow for free flow of product in order to eliminate collection points — a chief concern for those working in meat, poultry and other food processing environments.
Due to its free flow design this model is also extremely easy to clean and sanitize, which we know is of the utmost importance when working with ground meats, trimmings, and other processed meat ingredients.
Having no metal hardware not only makes it compliant with USDA regulations, but also makes it resistant to rust, resulting in a longer product life.
Additionally our free flow bulk container also includes a variety of design features that make it easy to handle and maneuver despite its size. Some of these include a four-way entry and angled legs for easy forklift use, an ergonomic nesting design that saves space when containers are not in use, and reinforced, rounded corners that prevent damage even during rough handling.
Customizable for your specific needs
Some of our customization options include custom colors, mold-on graphics, mold-in graphics, and stenciling.
If your business needs a durable and easy-to-use container that is designed specifically for use in the food handling industry, our free flow container is for you. Contact us today to learn more about how this one-of-a-kind design can work for your business.
https://fibertechplastics.com/wp-content/uploads/2018/01/FF445-free-flow-red-300x300.jpg
300
300
Fibertech
https://fibertechplastics.com/wp-content/uploads/2021/08/Fibertech-logo-color-reversed-400px.png
Fibertech
2018-01-19 15:20:05
2019-01-10 11:21:54
Fibertech's Free Flow Container for Food Handling Industries