The Ultimate Guide To Saving Time
&

Money With Plastic Combo Bins
Whether you work in food processing, pharmaceuticals, shipping, or another industry that requires bulk material handling, you are probably always on the lookout for time and money saving solutions.
What if we told you that making the switch to plastic combo bins (also known as plastic bulk containers) could not only save your business time and money but also drastically cut down on your environmental impact?
Read on to learn how.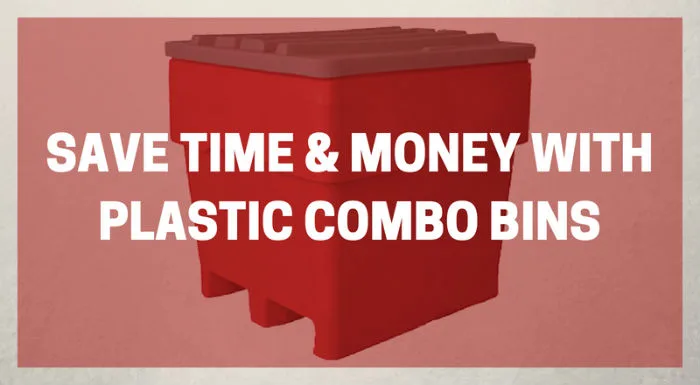 Section 1: Why you should choose plastic containers over cardboard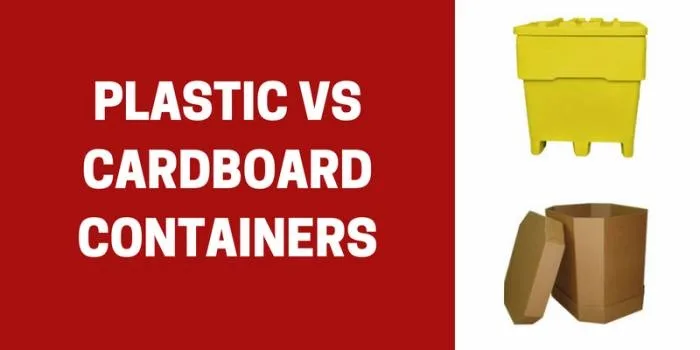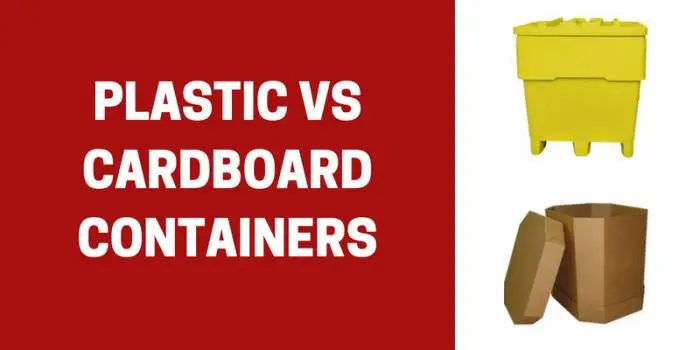 If you work in the food processing or pharmaceutical industries, you are probably all too familiar with the many limitations of cardboard boxes when it comes to storage and material handling.
In these damp environments where sanitation and cleanliness are key, a cardboard box has a very limited lifespan – even when lined with plastic.
In fact, when push comes to shove, many are really only single use.
This means lots of unnecessary waste, which is harmful to both the environment and your company's bottom line.
If you are looking for an alternative storage option that will save your company money and cut down on your environmental footprint, we have good news.
Bulk plastic containers provide an effective solution that will reduce both your company's waste and spending.
Choosing Plastic Containers over Cardboard Will Save Your Business Major Money in the Long Run
Unlike stainless steel containers and other alternatives to cardboard boxes, plastic is a cost-effective replacement that your company can actually afford to invest in!
Yes, bulk plastic containers will cost more than cardboard initially.
However, unlike cardboard, they have a long lifespan and can be reused again and again for years to come in even the harshest environments.
A few of the design features to look for when purchasing bulk plastic combo bins to ensure durability include:
A rotationally molded combo bin with a one-piece design.

One-piece designs don't have any weak points, meaning they aren't vulnerable to cracking under pressure.

A combo bin constructed from high-quality polyethylene that is both USDA and FDA approved.

This durable material will not degrade even in extreme temperatures (e.g. freezers) or damp food processing environments.

Depending on your industry, you may need to look for a combo bin that is 2-way and 4-way forklift accessible.

This will help reduce the chance of damage in your warehouse
Opting for Plastic Containers Will Drastically Cut Down on Your Environmental Impact
All businesses love to save money.
This, as we discussed, is a major benefit of choosing plastic containers over cardboard when it comes to your food handling and storage needs.
However, another major benefit of making the switch from cardboard to plastic is that it is an environmentally-friendly change you can feel good about!
Did you know that in 2015 alone the world consumed approximately 410 million metric tons of cardboard and paper?
You heard it right.
Even worse?
Research has shown that 36 percent of U.S. waste ending up in landfills each year is cardboard and paper, with cardboard accounting for the largest form of municipal solid waste produced by businesses annually.
Making the switch from cardboard to plastic containers is an easy way for your company to cut down on the waste you send to landfills each year and a great step towards limiting your environmental impact.
And we all know how impactful that can be for how your business is perceived in the eyes of the consumer!
Making the switch is a win-win.
Section 2: Four common types of bulk containers and combo bins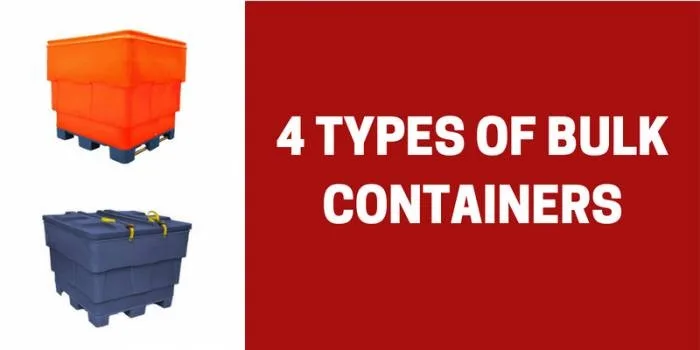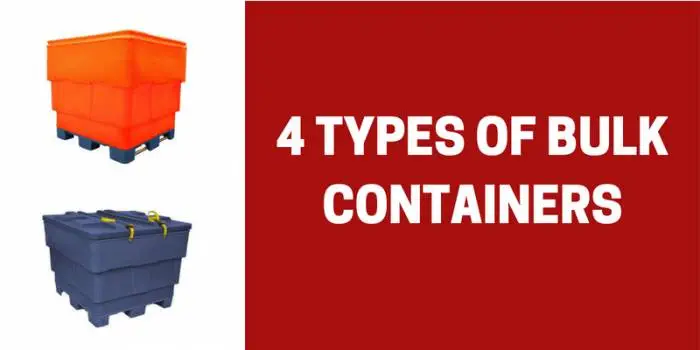 If you are considering investing in reusable combo bins for your business, the first step is understanding the different options available to you.
There are four common types of bulk containers to suit your needs.
Keep in mind all of these options are highly customizable.
1. Caster cart containers
Caster cart containers are mobile and easy to move from one location to the next – a key feature when it comes to transporting bulk containers from one workspace to another.
In addition to being moveable, rolling combo bins are also easy to maneuver thanks to rigid/swivel casters that ensure they are usable in even the tightest spaces.
This type of rolling combo bin is often designed with the food processing and pharmaceutical industries in mind.
All materials down to the casters can be USDA and FDA compliant.
This typically includes using 100% virgin polyethylene, as well as using stainless steel framing when adding the caster feature, to ensure the product remains compliant with strict food handling standards.
Companies can also add antimicrobial casters that keep the carts sanitary at all times.
2. Rotatable containers
Rotatable combo bins typically incorporate an aluminum bar through the replaceable, bolt-on pallet base of a bulk container – giving the bin increased versatility when it comes to material handling.
These durable containers are ideal for use in warehouse settings as they are specially designed with forklift entry points resulting in ease of use and a minimized risk of forklift damage.
With rotatable containers, the addition of a one-inch aluminum rod gives your workers the ability to securely tilt and dump materials using a standard forklift 180-degree rotator.
3. Free flow containers
Designed for use in the food handling industry, free flow containers and combo bins are engineered with contoured corners and a flat, smooth interior.
This allows for free flow of product in order to eliminate collection points — a chief concern for those working in meat, poultry, and other food processing environments.
Due to a free flow design, these carts are also extremely easy to clean and sanitize, which we know is of the utmost importance when working with ground meats, trimmings, and other processed meat ingredients.
These types of bins typically include no metal hardware which not only makes them compliant with USDA regulations but also makes them rust-resistant, resulting in a longer product life.
4. Shipping containers
Bulk shipping containers (which can hold up to 125 gallons!) are a wonderful solution for any company looking for an easy and reliable way to transport bulk or hazardous materials.
They are created with a durable nature, secure design, and easy-to-use structure.
This makes them ideal for a variety of industries including commercial laundry, automotive, healthcare, pharmaceutical, and more.
Constructed from linear low-density polyethylene resin with a single wall single-wall plastic, combo bins for shipping feature a one-piece design with a bolted-on pallet—resulting in a strong, damage-resistant product—perfect for transporting bulk materials, as well as materials that may pose a hazard to the public.
As the FDA regulates the transportation of food and drugs, it is crucial to have a sturdy and safe container for transporting goods.
This solid construction along with additional safety features makes these shipping containers ideal for shipping non-liquid materials including clinical waste, flammable materials, oil or paint soaked rags, and soiled laundry.
Some bulk shipping containers are also certified by the Department of Transportation for transport of hazardous materials and designed to comply with the transport of dangerous goods with a 11H2 certification, for non-liquid materials.
Section 3: How to find the right combo bin or bulk container for your industry needs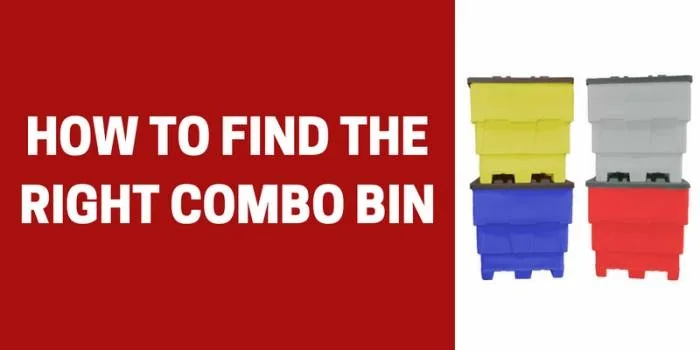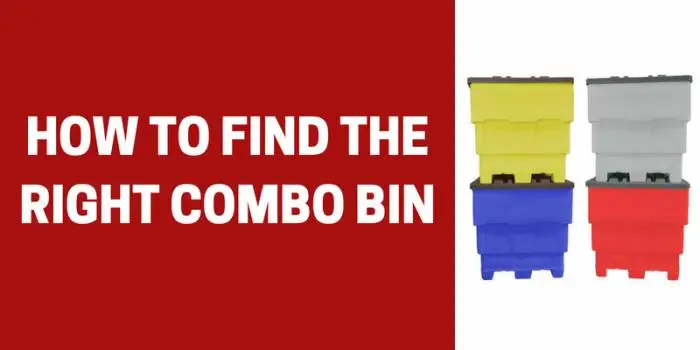 In the past, making the switch from cardboard to plastic was difficult due to a lack of containers that worked for a variety of industry needs.
However, a wide selection of bulk plastic containers with a variety of customization options are now available.
This customizability makes it easy to find the perfect container for your business.
Five common design features to look for when purchasing bulk plastic containers
When researching combo bins and containers for your business, be sure to stick with a manufacturer that is committed to durability and ergonomic design.
Some common features of well-designed bulk containers include:
1. Design
To ensure you choose a quality bulk combo bin, be sure to look for manufacturers that use rotational molding to create a solid wall construction.
This is key to ensuring your bin will be resistant to wear and tear in even the most demanding industries.
2. Forklift Accessibility
If you work in a warehouse, you know how easy it can be to damage containers while maneuvering them with a forklift.
To ensure you purchase a long-lasting product that will serve your company for years to come—even with frequent forklift use—consider investing in containers that are designed to be 2-way and 4-way forklift accessible.
3. Space-Saving Design
Another design feature to keep an eye out for is bins that are nestable and stackable.
This space-saving design is favored by businesses located in warehouses, recycling yards, and industries that benefit from efficient backhauling.
4. Ergonomic Features
Although durability is key, you should also ensure that the combo bin you purchase is functional and easy to maneuver for a variety of applications.
Look for containers that include ergonomic handles to ensure they are easy to stack and move, containers that include wheels for easy mobility, and rotatable containers for easy tilting and dumping.
5. Customizability
When researching material handling combo bins to work for your exact industry needs, many companies offer a wide range of customization options.
Some of these optional modifications typically include:
Drain Holes/Drain Plugs
Divider Plates
Stacking Lids
Dust Cover Lids
Stenciling
Mold-in/Mold-on Graphics
Custom Colors
It is plain to see that the world of reusable plastic combo bins has come a long way in recent years.
With a wide variety of models and customization options, bulk plastic containers will make your business more efficient, save you money, and ultimately, help your business take a major step towards saving the environment!