How plastic laundry trucks are revolutionizing the commercial laundry industry
Did you know that in the United States alone, 15 billion pounds of laundry are processed annually within the textile services industry?
Now that's a lot of laundry.
You may also be surprised to learn that innovations in laundry trucks are shaping the way laundry is processed both within the U.S. and around the world.
Yep, you heard us right. The laundry truck is revolutionizing the commercial laundry industry.
In this comprehensive guide, we will share EVERYTHING we have learned over the years of our time designing, engineering, and manufacturing some of the most effective laundry trucks on the market.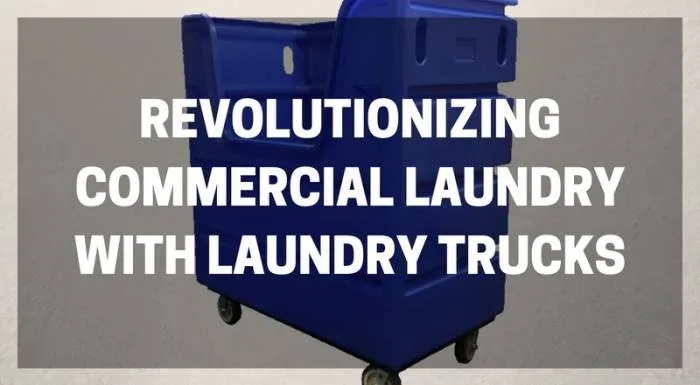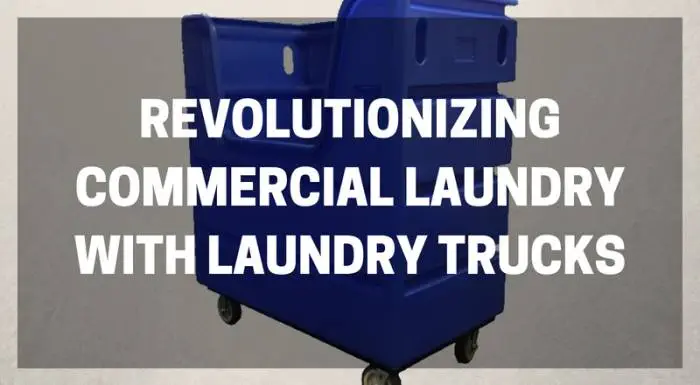 Chapter 1: Fast facts about the commercial textile processing industry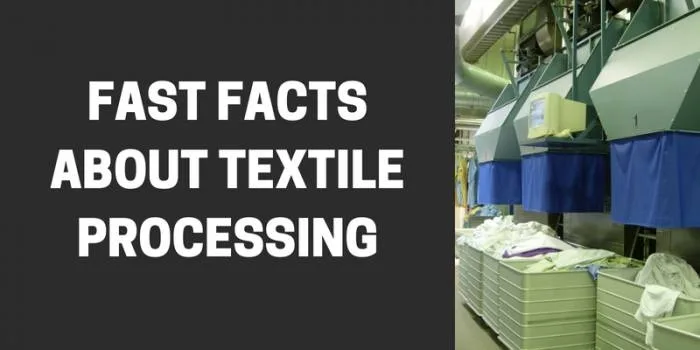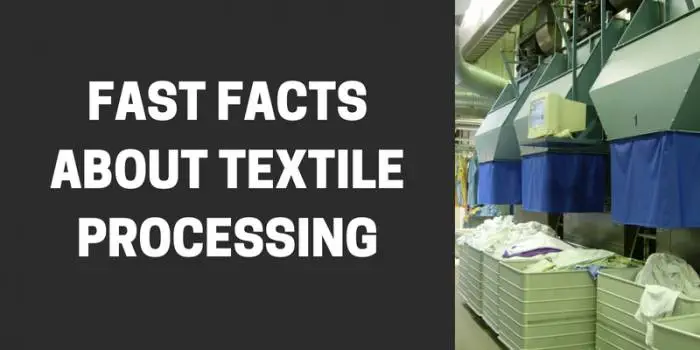 The cleaning industry is a significant force in the U.S. economy, despite being far from the most glamorous.
When it comes to cleaning and maintenance, one of the biggest sectors is that of the commercial textile industry — which encompasses all things related to maintaining and laundering textiles.
Below are a few fast facts about just how big the cleaning and commercial laundry industries are within our nation.
As of May 2013, there were approximately 3.2 million people working in the cleaning services industry in the United States.
When it comes to industry professionals processing textiles and laundry, it is estimated that 15 billion pounds of laundry are processed annually in the United States alone!
Commercial laundry facilities are estimated to process "enough linen to fill 10 to 20 trucks per day with clean goods."
It isn't just commercial laundry services contributing to this total. In fact, businesses in the hospitality sector — including hotels, restaurants, spas, and gyms — make up about 50 percent of these 15 billion pounds!
The healthcare industry is also included in a big portion of this 15 billion pounds as well, with hospital operating budgets surrounding linen distribution ringing in around $1 to $2 million per year, depending on the facility.
The annual revenue produced by industrial laundry is predicted to reach over $8.7 billion by 2020
All of this laundry adds up to a lot of time and money being spent on the simple process of doing laundry across a variety of industries including laundromats, linen delivery services, hotels, gyms, spas, hospitals, schools, prisons, gyms, and more.
Keeping this in mind, it is critical that any business that processes large quantities of laundry on a regular basis find ways to streamline processes to be as efficient as possible.
Chapter 2: Five benefits of laundry trucks in the commercial laundry sector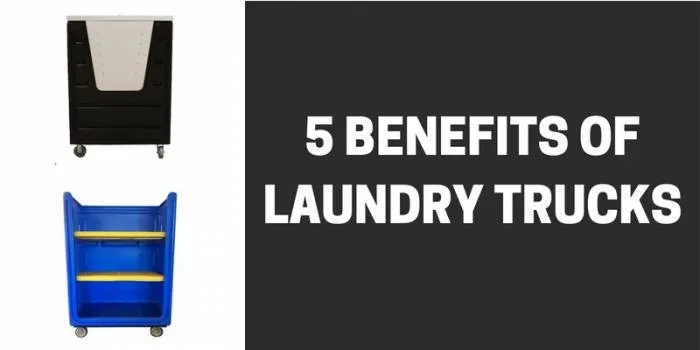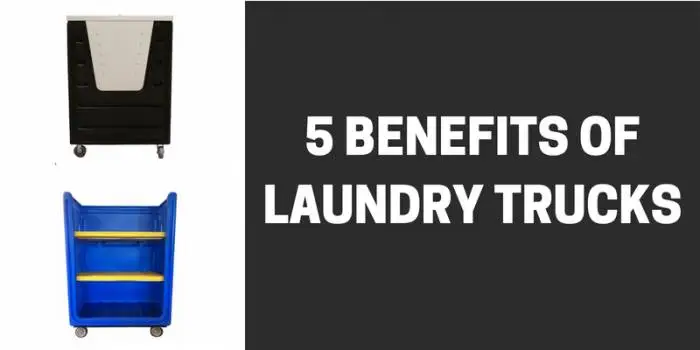 It may seem simple, but when it comes to making commercial laundry more efficient, one of the most cutting-edge innovations revolutionizing the way the commercial textile services industry thinks about laundry is the laundry truck.
This may come as a surprise, but consider the below benefits of laundry carts.
Efficient
According to American Laundry News, "Every minute counts when working to produce clean linens in a timely fashion."
This makes efficiency key in the commercial laundry industry, and a well-designed laundry cart is an easy way to drastically improve your facilities efficiency.
Depending on the model you opt for, laundry trucks can hold up to a thousand pounds of laundry at a time, reducing the number of trips and carts needed at a time.
Durable
Another key benefit main benefits of laundry trucks is their durable design.
Unlike cheaper alternatives, a laundry truck is an investment that your company will appreciate for years to come.
The quality, long-lasting nature of well-crafted laundry trucks will not only save your business money in the long run but will also reduce your environmental footprint, by limiting the amount of laundry handling supplies needed.
Eco-friendly
Plastic laundry trucks are often rotationally molded using polyethylene — a material that is 100% recyclable — making it perfect for those that care about the environment even more so those companies with sustainability in mind.
Easy to clean
Since most laundry trucks are manufactured from plastic they are incredibly easy to clean — which is critical for facilities processing large quantities of laundry.
In addition to being resistant to rust (thanks to a plastic construction), many manufacturers can also incorporate drain holes into the carts so that you can quickly hose down your fleet without worrying about standing water or drainage.
Customizable
Not every business has the same laundry processing needs, which is why the customizable nature of laundry trucks is critical.
Most plastic laundry carts include a variety of options to choose from including doors, lids, colors, and casters.
Chapter 3: The importance of customizability in laundry trucks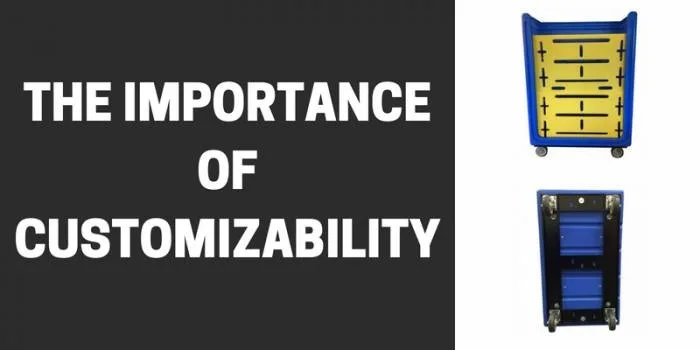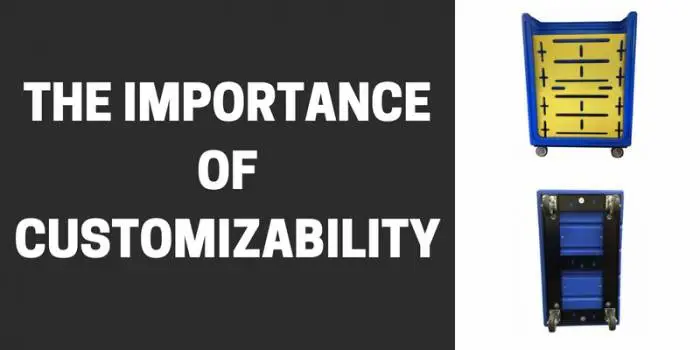 As you can probably tell from Chapter 1, the commercial textile processing industry is massive and encompasses a wide variety of sectors including linen delivery, commercial laundries, gyms, hotels, hospitals, prisons, schools, restaurants, and more.
Because of this diversity within the textile processing industry, it is critical that laundry trucks are customizable to the exact needs of the industry in questions.
For instance, a fitness studio is not going to have the same needs as a healthcare facility, and vice versa.
Some common customization options include:
Utilizing different caster sizes and configurations depending on your space
Adding a lockable lid and door for security
Incorporating a spring lift platform for ease of use
Building in drain holes for simplified sanitation
Designing to include hand holes for easy maneuvering
Many businesses outsource their laundry to an outside service.
However, if you are processing your laundry in-house (or are a commercial linen processing service) it is important to have the option of customizing your laundry trucks to fit your brand.
Some popular brand customizations include incorporating company colors and adding in logos or department names with mold-on graphic, mold-in graphic, and stenciling options.
Chapter 4: Laundry cart innovations that are shaping the textile maintenance industry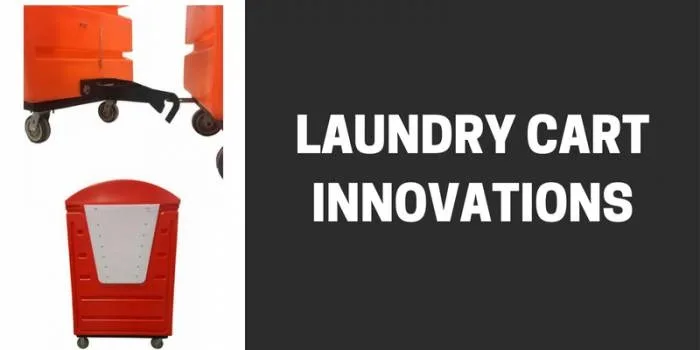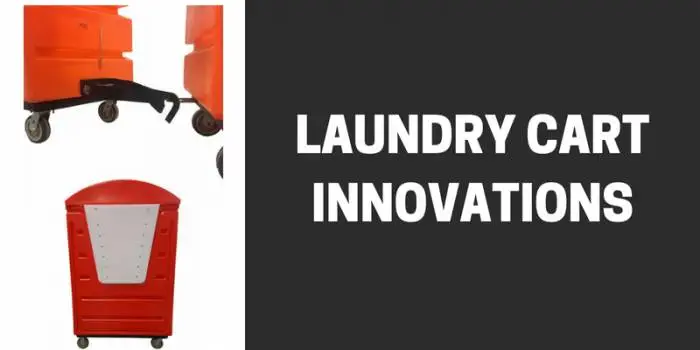 As with most areas of modern life, technology has greatly influenced laundry cart design — leading to a variety of innovations that have made the textile maintenance industry increasingly efficient.
Some of these key innovations include:
Eco-friendly materials
Since laundry has a major impact on the environment, many businesses like to do what they can to reduce their carbon footprint.
Fortunately, innovations in plastics manufacturing have made laundry carts increasingly eco-friendly, and they can now be crafted from entirely recycled materials!
Fire-retardant materials
Laundry carts can now be manufactured from materials that are resistant to fire.
This isn't essential for all commercial laundry processing, however, it is an essential feature for certain niches within the textile processing industry.
USDA and FDA materials
Although not as essential in the laundry industry as in other industries, laundry trucks can now be manufactured from materials that are both USDA and FDA approved.
For businesses where this is a concern, this is a game changer.
Linen protection features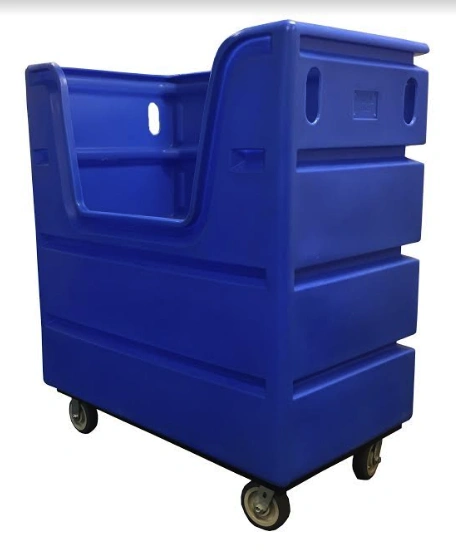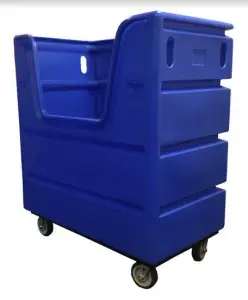 Three key linen protection features that are now incorporated into quality laundry trucks include:
Smooth interiors + rounded corners: This design feature eliminates collection points that can harbor dirt and bacteria and protects linens from potential damage and contamination.
Caster installation: Another innovative linen protection feature is how the casters are mounted during the design process. A good laundry truck will be designed so that the casters are installed using inserts molded into the bottom of the cart instead of bolting through the bottom, which eliminates catch points that could tear or otherwise damage your linens upon removal.
Rust-proof design: Thanks to technology plastic laundry carts can now be manufactured with no metal parts, which means they are rust-proof and do not corrode. This ensures a long-lasting product that will not damage or discolor your laundry—even in damp environments.
Spring lift platforms
The innovation of the spring lift platform is protecting workers from injury and minimizing workers compensation claims for employers.
Since the most commonly reported on-site injuries in the commercial laundry industry are back injuries — due to repetitive reaching, bending, and lifting, spring lift platforms are a game changer for laundry processing.
Lightweight design
For businesses that regularly transport linens to and from clients a lightweight design is key to reducing fuel usage.
It may seem like a little detail, but the weight of a laundry cart can have a big impact on fuel use over time.
Today, many manufacturers are designing lightweight laundry trucks that account for major fuel savings when it comes to transporting fresh linens to and from clients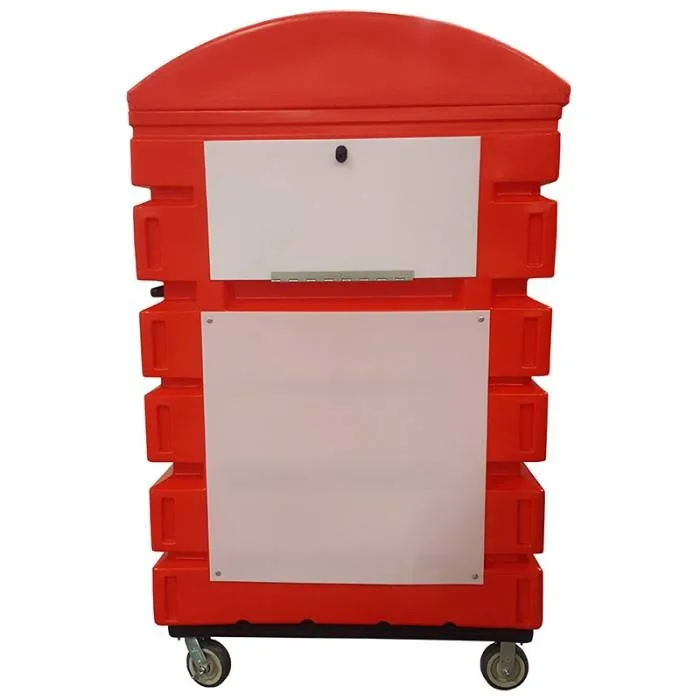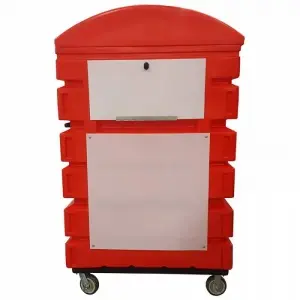 Dome top technology
Originally designed with donation collection in mind — as it creates an easy and secure method for drop off of linens, used clothing, and other second-hand items — dome tops are an innovative solution for those in the laundry industry as well.
Due to a secure construction that prevents rain, heat, and other elements from damaging stored items, the dome top is an ideal laundry truck innovation for businesses that need a durable and safe outdoor linen drop off option.
Shelf conversion systems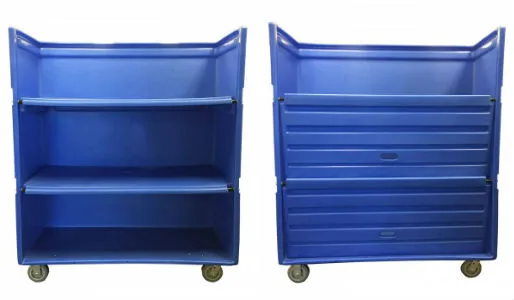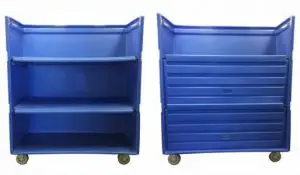 A somewhat recent laundry truck innovation, shelf conversion systems allow you to effortlessly expand or collapse built-in shelves depending on your needs.
The ergonomic shelf conversion systems that can be built into laundry trucks easily convert to a vertical position for dirty linen pick up, and change to a horizontal position to organize and deliver fresh linens.
This ability to quickly switch functions results in a more efficient workflow and maximizes space.
Chapter 5: How to find the perfect laundry truck for your business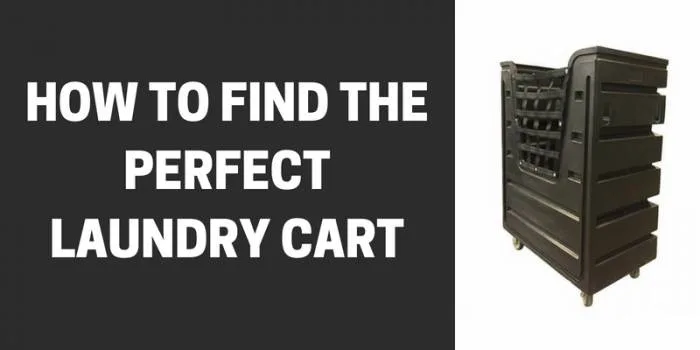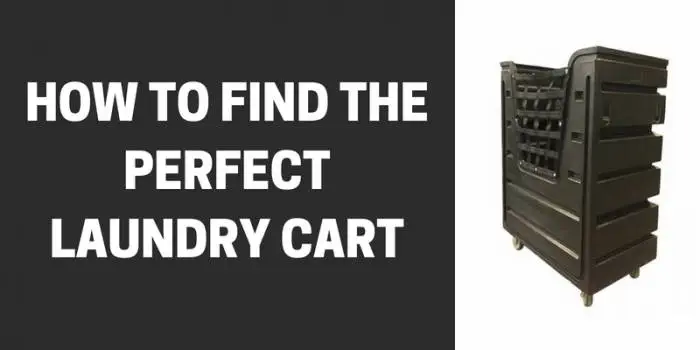 So now that you know more about the many benefits of laundry trucks and the key innovations in design and engineering making the commercial laundry industry more effective, you may be wondering how to find the perfect laundry truck for your specific needs.
As mentioned previously, the customizability of laundry carts is critical to choosing a model that will work for your company's specific needs.
However, many first-time buyers can get overwhelmed with all of the options available!
To ensure you find a laundry truck that works for your operation, we suggest evaluating your needs and asking questions BEFORE pulling the trigger on your final purchase.
Questions To Ask To Get The Perfect Laundry Truck For Your Business
What dimensions do you need?
How much weight does your cart need to be able to handle?
Which wheel configuration will work best for your building?
What ergonomic features do you need (e.g. hand holes)
Do you have specific material needs (e.g. fire-retardant? USDA or FDA approved?)
What will the primary purpose of the cart be (e.g. linen delivery, linen collection, etc.)?
Do you need the option of securing your linens?
Does your company want to incorporate custom colors or logos?
By asking yourself these questions, you should be able to get a much better idea of what type of laundry cart will function the best in your facility.
Not sure when it comes to these questions?
The Fibertech team is more than happy to help you find the perfect solution for your business.
Give us a call and we'll help you pick the carts you need.