Customize Bulk Containers
Custom Bulk Container Features Built-To-Order
Fibertech is your source for custom built bulk containers perfect for shipping containers, storage bins, carts and more!
Fibertech is the source for your company to Customize Bulk Containers used to make your business more economical. As the experienced and expert source for rotational plastic molding products, we offer you complete design and manufacturing services. We work with our customers to develop efficient and economical solutions for their specific needs. The Fibertech team works closely with customers to design CAD-enhanced material and product specifications, incorporating the required design details for each custom built bulk container. Our capabilities include meeting custom secondary operation requests such as assembly, graphics, welding, and packaging.
Our objective is to meet your custom product requirements, anticipate your needs, and respond with custom products and services that surpass your expectations.
Choose from our numerous custom bulk container design features: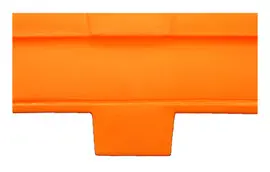 Welded Seam
A welded seam is used as support to the attachment of the bolted-on pallet and to keep water from getting between the pallet and the container.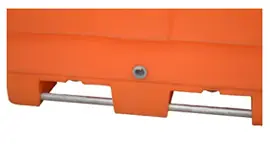 Rotatable
Aluminum rods are ran through the legs of the 4Series bolted-on pallets and welded into place to keep it secure when rotating the container.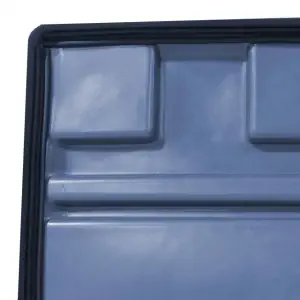 Rubber Seal
A rubber seal is adhered to the inside of our plastic bulk container lids to keep moisture out and to help secure the lid on the container.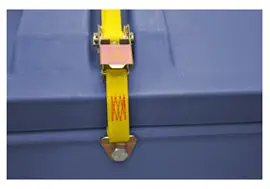 Tension Straps
Fasteners and straps are bolted to either side of the plastic bulk bins and ran along the channels of the lids to allow the lids to be strapped and fastened shut.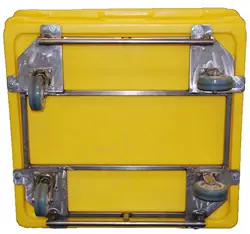 Steel Rotatable Caster Frame
A stainless steel frame is custom welded and bolted-on to our 4Series containers in place of a pallet and industrial casters are attached to allow our plastic bulk containers to roll and be moved with ease by hand.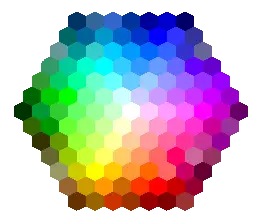 Custom Colored Plastic Containers
Choose from 20 on hand colors at no additional cost, custom color matching also available.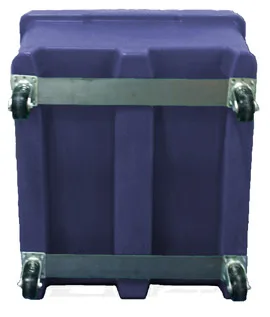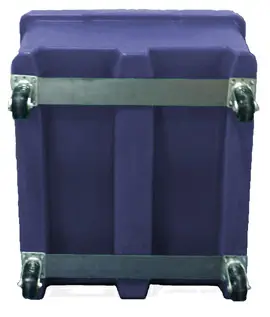 Flat Aluminum Caster Support
We bolt flat aluminum plates across the channeled bottom of the 2Series combo bins and casters are attached to allow the plastic bulk bins the ability to be rolled for better handling.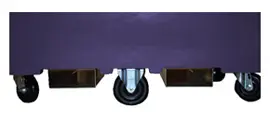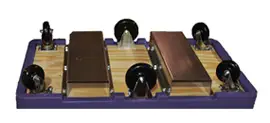 Steel Forklift Pockets
By attaching steel forklift pockets to the bottom of our industrial carts it is now forklift accessible and rotatable.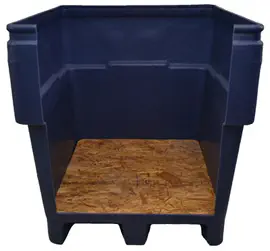 Cutouts/Cut-a-Ways
In some applications access to the bottom of our plastic bulk containers in needed and cutouts or cut-a-ways are done to make this possible.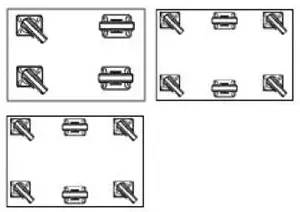 Caster Configurations
Often the configuration of casters on a bulk cart can make it that much more useful: swivel, rigid, locking, 4", 5", or 6".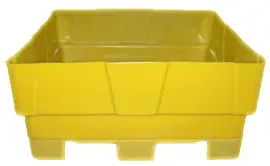 Custom Height Applications
In some cases specific heights are required; our plastic bulk containers can be cut down to meet the size need.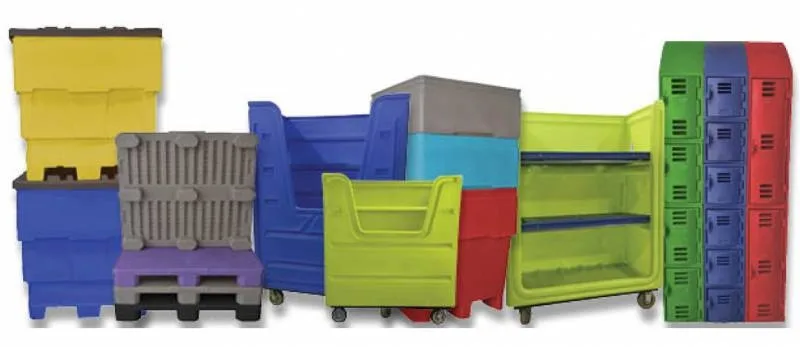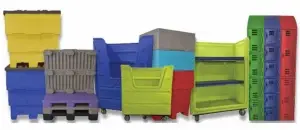 The antimicrobial protection works to reduce microbial growth on the surface of products, ensuring they remain cleaner and fresher in-between regular cleanings. Once molded into a plastic product, antimicrobial protection cannot be washed off nor does it wear away over time. The antimicrobial additive in plastic molded products does not affect the gloss or matte surfaces, color, or durability. This material and process combination provides ongoing protection for the expected life of the plastic molded product. Learn More >
Let Fibertech Be Your Partner for NEW and REPLACEMENT Projects.
Questions or Ready to get started? Call us today at
800-304-4600

or Contact Us.